Evo tri zone
The top-of-the-line tyre warmer with independent rim warming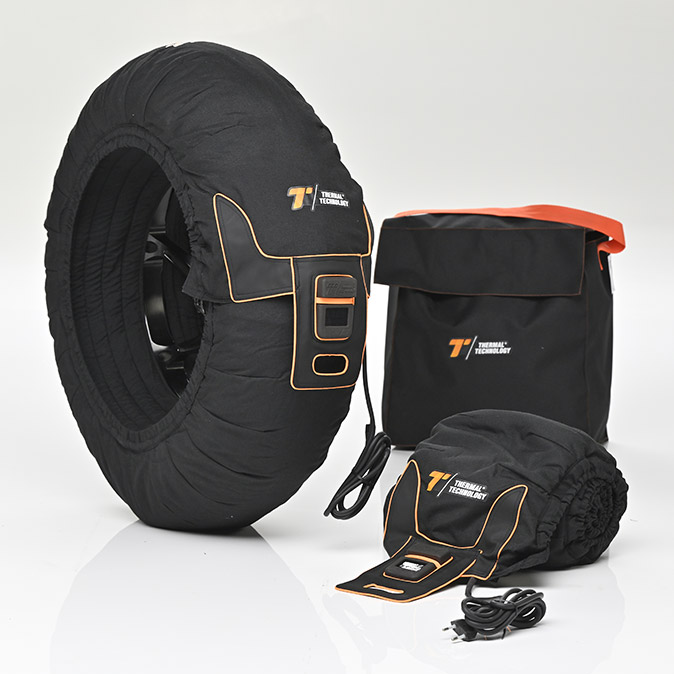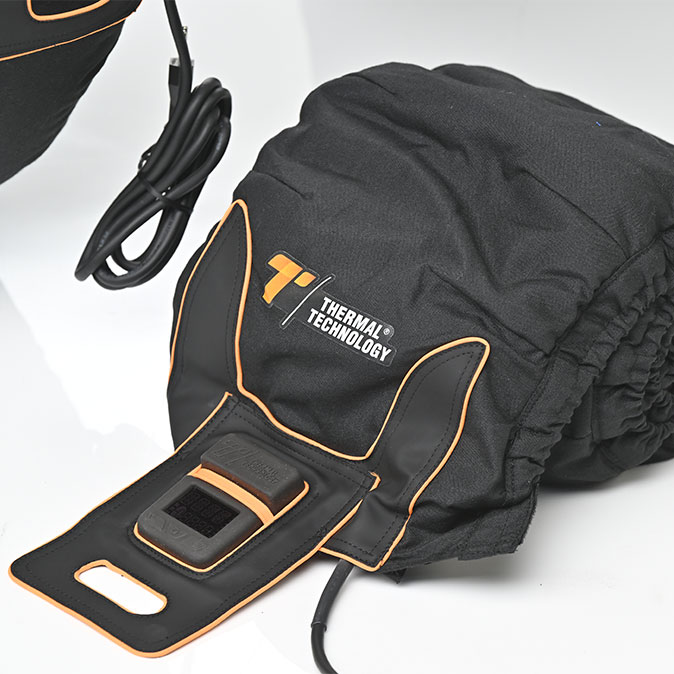 Evo tri zone
Street race
Size
One size

XXXS

XXS

XS

H

S

M

L

XL

XXL

XXXL
Minimum 2-year extendable warranty
Guaranteed technical support
Secure check-out
DESCRIPTION
The top-of-the-line tyre warmer with independent rim warming
The tyre warmer is fitted with an appendage around the circumference which sits inside the rim, warming it up, and is completely made of flame-retardant fabric inside and out. The dual-zone tread heating and division of the electrical component into two independent sectors is managed by an integrated electronic control unit, making it possible to reach a consistent temperature of up to 120°C across the entire surface of the tyre. The control unit also controls the integrated rim warmer, allowing its regulation.
The Evo Tri Zone product can be customised on request, as was done for example for the Aruba Ducati Superbike Team tyre warmers, Aprilia Team Gresini tyre warmers, BMW Althea Racing tyre warmers, Honda CIA tyre warmers, Suzuki Grau Racing tyre warmers, MV Reparto Corse Forward Racing tyre warmers...
TECHNICAL DATA
Temperature regulation:

dual-zone temperature control managed by an integrated digital control unit

Rim warmer:

integrated with independent temperature regulation

Heating status indications:

via the display showing the current temperature

Rim temperature:

adjustable from 0 to 130°C

Tyre temperature:

adjustable from 0 to 120°C

Composition:

heating elements in carbon fibre coated in a layer of heat conductive silicone

Heating element:

with transversally and longitudinally laid filaments

Internal fabric:

flame-retardant

External fabric:

flame-retardant, resistant to high temperatures, cuts, water and oil

Insulation:

triple layer with reflective exterior to mitigate heat loss

Consumption:

1450W

Available colours:

black

Available sizes:

L – XL – XXL – XXXL

Warranty:

3 years (2 years on electronic parts)

Certifications:

all the materials used comply with EC regulations

Accessories:

sold with exclusive carry bag
COMPATIBILITY
Tyre warmer sizes
SIZE TYREWARMER
MOTORCYCLE TYP
FRONT TREAD
FRONT TYRE ACRONYM
REAR TREAD
REAR TYRE ACRONIM
XXXS

Minimoto

90
90/65 R6,5
110

110/55 R6,5

XXS
Scooter ø 10"
90
90/90 R10
100

100/85 R10

XS

PitBike Scooter ø 12"
100
100/90-12

120/80 R12

S
Moto3 / 125gp
90

95/70 R17

120

115/75 R17

H
Moto storiche Truxton
100

110/80-18

130

130/80 R18

M

SSP300

110

110/70 R17

140

140/70 R17

Motard
120

120/70 R17

160

165/55 R17

L

SuperSport

120

120/70 R17

180

180/55 R17

XL

Stock 1000

120

120/70 R17

180-200

180/60 R17

195/65 R17

200/55 R17

XXL

Superbike

120

120/70/17

200/60 R17

190/60 R17

Moto 2

125/75 R17

200/75 R17

XXXL

Superbike

125/70 R17

200/65 R17

125/80 R17

200/70 R17
The same Tyrewarmer size can be fitted on other Tyre Acronyms, please refer to the "Motorcycle Typ"
ON REQUEST
On request, Thermal Technology can produce the Evo Tri Zone motorcycle tyre warmer with
sizes S and M
colours and customisations
addition of external control unit
choice of plug type
customised materials
Minimum order quantities apply for customisations. For more information contact our Customer Service.
You might also be interested in
Other customers have chosen